Here's a quick round up of the latest Pippa news, including some IDs on her most recent outfits, for those of you who have been asking me, in reverse order:
Wednesday 17th August
Pippa looked really gorgeous wearing a grey and navy blue ensemble yesterday:
Pippa is wearing a blue and grey pleated skirt from highstreet favourite Zara (identified by the wonderful Alice on our Facebook page).  Here's a picture of Alice wearing the same skirt from Zara:
Alice wearing her Zara skirt; Original Zara image of the skirt, forwarded on by Pauline (thank you both!)
Pippa paired the skirt with a navy blue top (which also looks very 'Zara' to me) and her grey blazer that I believe is by Theory. Finally, Pippa accessorised her outfit with a pair of mystery navy peep-toe heels and a new Modalu handbag.
As my friend Anne (owner of My Small Obsessions – a page about Kate's jewellery) pointed out, Pippa's bag seems to be the new Oyster Croc colour (not Oak, as I had initially presumed). The Oyster colour is already sold out on the Modalu site:
Tuesday 16th August
The paparazzi photographed Pippa out and about in London wearing her grey safety-pin print dress from Whistles and her black leather jacket by the same brand.
Pippa accessorised her outfit with her tan Russell and Bromley wedges and the 'Capri' clutch bag in Beige by new British designer Lamb 1887.
The bag is definitely by Lamb 1887, who sent me a press release about it today.  They inform me that it was the most popular item from their new line and it sold out immediately after the brand launched in April 2011.  It's only just come back in stock and now Pippa seems to have snagged herself one (but we wonder if it was another freebie? Oh to be the sister of a Princess!)
Monday 15th August
Pippa watched boyfriend Alex Loudon play cricket at the London Shenley Club in Hertfordshire. There were lots of pictures of the couple looking very happy, dispelling any rumours that they might have split.
She wore a red 'Issa Lucky' dress with a fitted top and flared skirt.  Click here for a picture of Pippa in the red dress.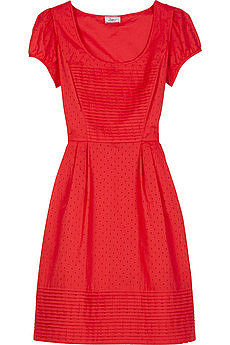 The red dress has also been worn in Sex and the City by Charlotte.  According to Vogue, the dress was part of Issa's 2008/9 collection (which may explain why it can't be found for purchase online anywhere!)
Alice Dellal also wore the red version of the dress and Pippa's sister Kate also owns the same style in a variety of colours.
I hope this clears up some fashion-related questions Pippa fans!