Hello, apologies for the lack of updates AGAIN!  But I promise things are returning to normal gradually.  I've just had to upgrade the server to DOUBLE the size to accomodate you Pippa fans, so that meant I couldn't update yesterday.  Prior to that I had fallen ill and I had taken on a lot of work which meant I didn't have a lot of spare time to update.  BUT ENOUGH ABOUT ME!  It's Pippa you've come here to read about, and rightly so!  So let's take a look at Miss Middleton from the last week and a half & do what we do best… dissect her outfits!
NOV 29th and 30th & DEC 1st
On the left we see Pippa from the 29th of November wearing her red/orange Zara coat, the same coat she wore back in October.  The coat is still available on the Zara website in size small. You can see she's wearing her French Connection jeans with the criss-cross knee detail.  Incidentally, the jeans are now on sale for £48, down from £72.  Click here to see.
In the center (30th of November), Pippa is wearing this same Markus Lupfer dress from October with a jacket and a pair of black shoes, which our Facebook friend Laura identifies as Nicholas Kirkwood Patent Leather Loafers.  The shoe has a slight heel and is decorated with pretty tassels on the front.  They're not cheap!  Even on sale in Saks Fifth Ave they cost £375.23 (down from £536.54).  And Barneys have the black version in stock on sale for $479.00.  Unsurprisingly, they're still available in many sizes in both stores.
Finally, on the right (Dec 1st) we see Pippa in a lovely wool grey coat with black piping around the edges.  I love how this coat cinches her in at the waist and it's so elegant.  I'm not sure where this coat is from but as Facebook friend Tammie reminds us, we've seen it before.  Pippa was photographed pre-royal wedding, early 2011, with her mother wearing it outside the Bruce Oldfield store.  Click here to view the story in the Daily Mail.  Note that Pippa is wearing the same mystery blue roll neck jumper from late October, which we couldn't identify (suggesting it's a past season).
We've put a close-up of Pippa's silver swirly earrings, which are also unidentified, to hopefully prompt people to write in if they know the designer (I do love them!)
DEC 2nd, 7th and 8th
On December the 2nd, Pippa wore the same green Fay coat from November 15th.  Underneath you can just about make outs a tribal printed tunic.  Our Facebook friend Michelle quickly identified the piece as Alice by Temperley's Art Deco Tunic.   Selfridges currently have the tunic on sale for £200.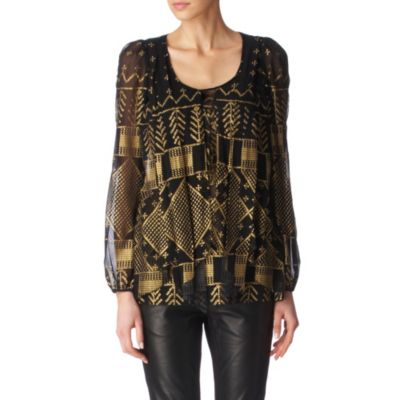 In the center image above, on December the 7th, we can see Pippa in her grey Fay duffle coat, another coat she's worn a few times quite recently.   I highlighted Pippa's sparkly earrings from this day as I wasn't sure if she'd worn them before?  I couldn't see them on Anna from My Small Obsessions' gallery of Pippa's jewellery, so I'm still unsure!
On the right we see Pippa on the 8th of December wearing the Damson coloured Susannah coat, which she also wore a few weeks back with a large black belt. Today Pippa opted to pair the 1940s style coat with a brown fur snood, which the Huffington Post discusses in some detail here.  You can also see that Pippa is carrying her Loewe Amazonia handbag and is wearing her black boots.
DEC 9th
Finally, Pippa stepped out in London today in yet another wool coat, this time in a rather interesting blue, black and grey check pattern.  This coat currently remains unidentified, so please do comment if you think you know where it could be from.   You'll also note that Pippa is indeed wearing new earrings today – drop earrings with some kind of gemstones inside the two larger hoops.  Once again, we're currently unsure where these are from, but will update when we find out!
Some final tidbits…
French Connection are having a HUGE sale at the moment, many items Pippa's worn are around half price, including her Streaky Stripe Dress, the Fantail Frill Ruffle Top, Sweetie Frame Clutch Bag and Wonderland Skinny Belt.
Additionally, Facebook friend Caryse told us Pippa's white coat (from iceskating) was by designer Dom & Ruby, which Look magazine managed to find on the Harvey Nichols website for £499.  Thanks to Chiara A for sharing that link with us!
Tiffany also shares a link with us, for Pippa's denim skater dress from Whistles.  Now available on the site again in sizes 12 and 14.    It's reduced to a VERY affordable £30 (down from £90!) so I suggest you get it now and put it away for the spring, bargain!!!
PS.  I'm aware there are one or two outfits missing, but my image library didn't have these (nor did Zimbio!) I may add links to them at some point in the morning, once I've scoured the web for them!
I hope to update more regularly this week, plus I'm thinking of trying out a new design for the site after Christmas!  How fun!
Have a great weekend Pippa fans!