I have been away from the blog for two weeks, as I moved house and had no proper internet connection.  I'm back properly now, and have put together a bumper post of Pippa's outfits from when I was away.
Here are all of Pippa's outfits, in chronological order from the 1st of November, until today.
On the 1st of November Pippa wore her Tine Print Body Con Dress leopard print dress from Whistles, which you may remember she wore before shortly after the Royal Wedding.  Unfortunately, it was part of Whistles' SS11 collection and it is now sold out.
Pippa carried her tan Modalu Pippa handbag, which matched with her tan belt and boots.  Over the top of the outfit, Pippa wore a black cardigan.
Pippa also wore a gold swirly pendant, which is as yet unidentified.
—
On the 2nd of November, Pippa opted for a grey duffel coat, which forms part of Fay's Fall-Winter 2011/12 collection.  Fay describes the coat as an "A-line short coat in pied de poule print with two Fay hooks and a padded collar." Many thanks to Kuznetsova Alla for identifying the grey coat.
A black dress can be seen poking out from under Pippa's grey coat.  Additionally, Pippa is wearing a pair of black boots and carrying her black Modalu Pippa handbag.
Finally, Pippa finished her outfit off with a pair of silver ornate earrings, which have not been IDd as yet.
—
On the 3rd of November, Pippa once again wore a plain black dress, grey tights and black shin-high boots (they're not the same as her Kate Kuba pair).  Pippa wore her blue Sara Berman jacket over the dress, which Facebook friend Chiara informs us is the Cleopatra dress from Tanya.  She also carried her black Modalu Pippa handbag and wore the same gold necklace from the 1st November.
On November 8th Pippa wore the same red Zara dress from early October.  It's the "Zara Animal Print Dress" and costs £29.99.  Pippa wore the red Zara dress with a long jacket, brown knee-high boots and her black Modalu Pippa bag.
Pippa also wore her Vinne Day twisted leaf earrings.
—
On November the 9th, Pippa looked very sleek and smart wearing another Zara dress, this time with brown and black panels.  You may recall that Pippa wore this same dress back in October.  The dress costs £39.99.  You can see that Pippa's tights have a fancy 'criss-cross' pattern.
I was informed from Facebook friends Shalini and Laura that Pippa's bowling bag is by Loewe.  It's the "Bolso Amazona" (or Amazon Bag) and it retails around £1,500.
Once again, Pippa wore her Vinne Day twisted leaf earrings.
—
On November 10th, The day after Sister Kate wore a long coat and belt in Copenhagen, Pippa stepped out in similar attire.  Pippa fans Laura and Michelle correctly identified the coat and belt as being by designer Suzannah.  Reps at Susannah informed Laura that the coat is not black, but "a dark wine tone called "Damson".  The coat is made from wool and cashmere and costs £450.
Pippa carried the Loewe bowling bag and wore the Vinnie Day leaf earrings once again.
November 15th saw Pippa in yet another Fay coat, IDd with thanks to blog regular Kiki.  Farfetch.com describe the coat as "army green".  It features a small funnel neck collar, hood, shoulder patches, a darted waist, front flap pockets and leather strap detailing.  This coat is currently retailing at £889.00.  Once again, Pippa carried her Loewe bowling bag.
—
Today, November 16th, Pippa wore a purple Sonia Rykiel dress, which actually features a knitted jumper on top of a gently pleated skirt of the same colour.
Here's a link to the same dress in grey on the Selfridges website: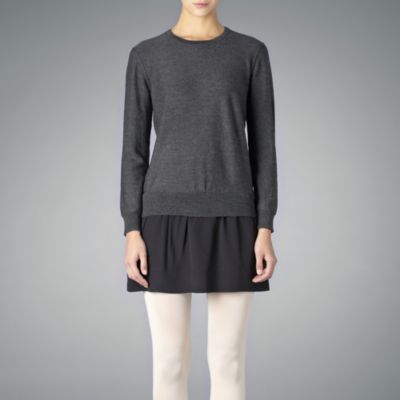 Many thanks to Therese for sharing this with us on our Facebook page.
—
Misc News
Many stores have been printed regarding Pippa and her relationship status recently.  Personally, I think it's Pippa's business and we take most of the tabloid gossip with a pinch of salt.
Nevertheless, here is a round up of several news stories, mostly posted over at our  Facebook page, just incase you missed any.
Finally… If you've spotted something I've missed regarding Pippa's outfits or in terms of news, please let me know in the comments.  Also let us know which of these 8 outfits YOU like the most.  My favourite is the leopard print dress and black cardigan I think!