Shop Pippa's Closet:
Browsing articles in "GET THE LOOK"
The fantastic Chiara posted us a new picture of Pippa holding a yellow or mustard coloured shoulder bag while out in London.
Pippa rocks the colour blocking trend by wearing a white vest tucked into a black two-tiered skirt.  The skirt is the same Pippa was photographed wearing in Madrid a few months back with a white shirt. Pippa finishes her outfit off with the bright mustard yellow bag:
Pippa's mustard yellow bag:
Pippa is carrying the "Portobello" by Ri2K in the colour of Ochre:
I've found the bag for sale on the SimplyBe website.
ID of the bag via CoolSpotters
If you buy it, let us know!! We love this bag!
Pippa was spotted out shoe shopping at
Russell and Bromley
on Kings Road in London today (28th June).  She looked gorgeous in a bright red dress by N.W.3.
Click here see a gallery of pictures.
Pippa's red dress:
The dress is known as the N.W.3 Wyldes Dress in Admiral red: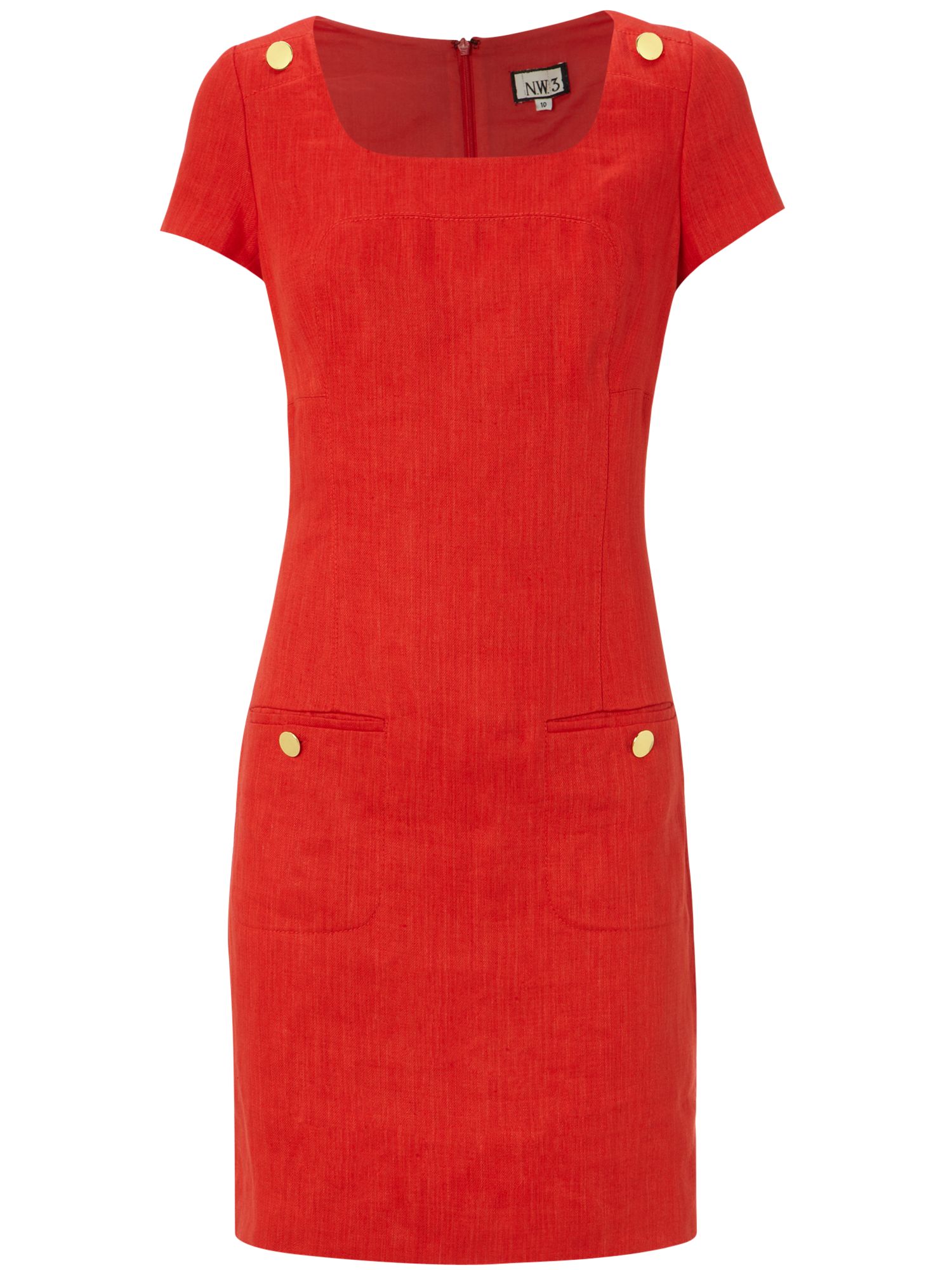 John lewis have the red in stock (albeit it low stock) in sizes 6, 10 and 16. The dress has now sold out in John Lewis.  Hobbs have the dress in a size 8 still in stock.
The dress is great for work, shopping or something a little more formal like a meeting or event.
It has a flattering shape (just look at Pippa's curves!) and is adorned with gold buttons.
It's currently on SALE from £129 down to £89
Update:
Pippa chose to wear the red dress again today (29th June) to Wimbledon – Here's a picture:
© AELTC/M.Hangst – Wimbledon.com
Massive thank you to eagle-eyed Michelle for finding the post & IDing the dress so quickly!!!  Come and join Michelle and I on Facebook: click here.
So, it appears that Pippa is still loved up with Alex Loudon, despite many rumours that the pair called their relationship off.  Last night Pippa was spotted arriving at Alex's house wearing her
printed wrap dress
, and then leaving his house for work this morning wearing a different dress (denim with a plait belt).  Pippa also wore a pair of (as yet unidentified) white peep-toe wedges and carried the same 
Modalu Bristol handbag
from the morning after the Royal Wedding.
You can view pictures of Pippa on PopSugar by clicking here.
Pippa's denim dress:

Pippa's denim dress is From Whistles and, co-incidentally, is called the "Alex" dress.
You can buy the dress from John Lewis in a number of sizes: Click here.
Thanks to Chiara for sending us the article!
If you're still lusting after Pippa's Modalu handbag, read this post and we'll tell you how you can get hold of a bag yourself.  PLUS we tell you when the Modalu Bristol/Pippa in SHARK is back in stock!
Why we love the Modalu Bristol / Pippa bag:
The bag is so elegant and very versatile.  Its sophisticated style is perfect for the office, for client meetings and that all important interview.  And, as Pippa demonstrates, it can also be dressed down with flats, a dress and a blazer for weekends of shopping, cocktails and visiting.  It's even perfect for hand luggage if you're jetting off for a long weekend!
In stock:
Medium Pippa bag in Oak, Chilli and Black Croc:
John Lewis have received a shipment of the medium sized Pippa/Bristol bag in these three colours.  I imagine they'll sell pretty quickly!  So better get yours fast!
Large Size Pippa Bag in Black Croc:
Marshall Ward (isme.com) currently have the large size Pippa bag in 'Black Croc' – but be quick, stock is low.
Live in Canada?
Town shoes also stock the Modalu Pippa/Bristol bag (thanks for the tip Jessica).
Coming soon – Modalu release more colours!
Firstly, the fabulous Viry told us that her representative at Modalu confirmed the brand will be introducing fabulous new colours as part of their AW/11 range, here's the inside scoop:
"The Pippa will be available in the following:
Oyster Croc & Oak Croc – Beginning to middle of September
Tan, plain Black, Plain Brown and Oak Croc – Beginning to mid October
Tan, Black, Brown Croc, Chilli, Shark – Mid to end of October
Electric Blue Suede – End of Nov to beginning of Dec
Nude, Blue and White Lizard – End of Dec to beginning of Jan 2012
Please visit the websites around these dates if you would like to place an order or sign up to our newsletter which will inform you when new stock arrives."
With thanks to: StylizedNFab.
Did you spot Pippa out and about chatting to Mrs. Henman at the pre-event for the Wimbledon Championships
today
?  We did!
Pippa wore her pink colour block dress from Zara (same as the very popular and now famous green version she wore in London last month!).
After a spot of dress-envy, and a touch of disappointment because the Zara dress has sold out in ALL colours, we decided to go on a hunt for something similar – AND LOOK WHAT WE FOUND!  Uncanny, no?
We really love this two-tone terracotta colour block dress because it is SO similar to Pippa's Zara dress: it's almost an identical copy!  Click here to buy now.  Plus, if you buy between the 16th and the 19th of June, you will save £5 on this dress (& any other purchases in Dorothy Perkins!) BARGAIN!
Pair your dress with a pair of black, nude or brown wedges and a cardi for daytime sophistication.  Or, dress yours up for a daytime event by pairing with a coordinating blazer, like Pippa did at the tennis today.
Pippa Middleton
Love Pippa Middleton? Then you'll love this blog! We chronicle Pippa's style, look at her clothing and discuss her outfits. We hope you enjoy your visit today :-)
Image © FemGeek.co.uk
Browse the site:
Become a FAN on Facebook:
Stay up to date with all the latest posts by 'liking' this page on Facebook: