Shop Pippa's Closet:
Browsing articles from "May, 2011"
Last week over 60 different stories were printed about party planner Pippa, who found herself in the public eye after her role as Maid of Honour to sister Kate last month.  Kate's coverage in the media has fallen significantly, whilst Pippa's has soared.
This is unsurprising as officials from Clarence House have asked that Kate & Wills be left to enjoy married life unhindered.  Due to this request, it is reported that media coverage of Kate has dropped by 94%.
The results come from a study conducted by Kantar Media Intelligence. Brian Merron from KMI has gone on record saying: "It's fascinating to see the post-wedding emergence of her sister Pippa in the UK media.
"Her rise has been meteoric, to the extent that two weeks after the wedding Pippa overtakes Kate in our media survey.
"With the media focus now moving on from the newlyweds it's safe to say that Pippa Middleton's celebrity status is well and truly set to climb and climb."
Add this to the rumours of Pippa Middleton getting her own tribute episode in the hugely popular show 'Glee' and it looks like Pippa's coverage is set to soar!
I'll be keeping this thread updated with the Pippa bag, primarily what's still on Sale in John Lewis, and what's out of stock.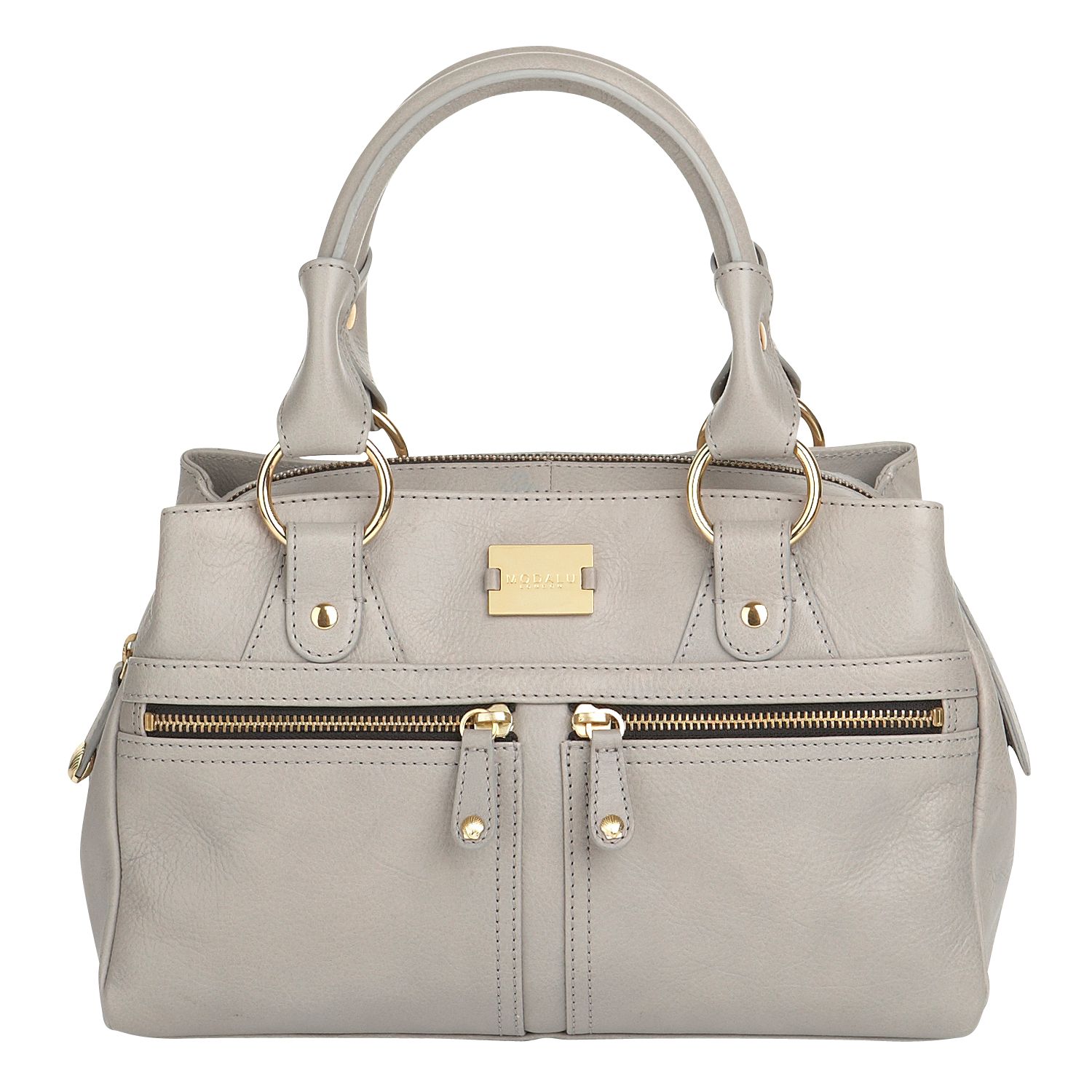 Last updated: 30th May 2011 at 8.15pm
Pippa was about and about in London today (26th May) wearing a bright pink top (possibly from Zara), blue Hudson jeans, Gucci sunglasses, gold hoop earrings and carrying a
second
Modalu Bristol bag, this time in a
tan colour
.
Pippa's first Modalu handbag sparked a style frenzy, which led to the bag in the 'Shark' colour selling out after she was spotted carrying it outside of the Goring Hotel back in April, and again on holiday in Madrid.   However, the bag (which Modalu renamed the "Pippa" out of appreciation) is still available in a range of colours and sizes if (like us) you really love it and you want to own it!
Here's how you can achieve Pippa's effortless style from the high street:
Pippa's Bag (Modalu Bristol)
Pippa is carrying a Modalu Bristol bag in Tan in this photo – It's her second Modalu bag, her first was in the sold out of the shark colour!
Modalu have already confirmed that they gifted Pippa a number of bags from the Bristol / 'Pippa' range, so we're assuming that she'll also have a black and/or brown one in her collection too…
As of 30th May, both the tan and the shark coloured Modalu bag are sold out in John Lewis… So we're guessing you should get the brown and/or black while you still can!
Pippa's Pink Top:
Pippa's pink blouse appears to be another purchase from one of her favourites: Zara. (Big thanks to Emilie who spotted the similarities!)
Obviously, we cannot confirm it 100% but the shirt DOES look uncannily similar:
Click here to SHOP ZARA
Pippa's Jeans:
Pippa has been identified as wearing 'Hudson' jeans by InStyle magazine.
Click to get yourself a pair of Hudson jeans from House of Fraser.
Pippa's sunglasses:
Pippa has been spotted wearing these Gucci sunglasses on multiple occasions.
The Gucci Havana sunglasses match Pippa's orange and black dress perfectly and are fast becoming everyone's summer sunglasses of choice!
Click here to view and buy.
How to get Pippa's look from the high street:
Pair a pink pleated top with blue denim jeans, and a pair of black lace up ankle boots. Finish the look with a statement handbag and a pair of gold hooped earrings.
Fashion fans looking to copy
Pippa Middleton's style
have been actively searching celebrity trend website "
MyCelebrityFashion.co.uk
", knocking Cheryl Cole from the top spot in the charts.   Cheryl Cole, who was the previous holder of the number one spot, has now dropped to fifth place below Pippa, Sam Faiers from TOWIE, Frankie from the Saturdays and Fearne Cotton.
Pippa, who now tops the chart for the most searched for on the celebrity style website, has even beat her sister Kate Middleton.
The ten most searched for celebrity styles over the past three months are:
1. Pippa Middleton
2. Frankie Sandford
3. Sam Faiers
4. Fearne Cotton
5. Cheryl Cole
6. Kate Middleton
7. Amy Childs
8. Vanessa Hudgens
9. Alexa Chung
10. Jessie J
Fashion fans love Pippa's style and the Modalu handbag she wore post-wedding sold out within days.
Update – Interestingly, the style website in question doesn't appear to have a single post about Pippa.  When you search for her on the website nothing comes up.  You'd think if she was the most searched for celeb out of the last three months they'd have something on there…?
Update – The bug has been fixed and you can see plenty of Pippa's outfits – matched with some high street equivalents – on the site.
Pippa was spotted out today running errands in West London, partaking in a spot of shopping and grabbing some coffee.  Pippa works in Chelsea, West London and was spotted attending work earlier this week holding the same black quilted leather portfolio as below:
Pippa was wearing a £35.99 two-tone mini dress from Zara, a pair of Gucci sunglasses and a white handbag from L.K. Bennett. The outfit was completed with a blue cardigan and a pear of peep toe white wedges.  Click here to shop L.K. Bennett handbags in John Lewis
Pippa was spotted outside Goring Hotel wearing the same Zara dress (in the pink version) the day before sister Kate's wedding:
Interestingly, the pink version of the dress is only available on the international Zara website, not the local UK version.  On the UK site, the pink version of the two-tone dress has a blue spotty top.
Colour-block dresses are very fashionable at the moment, so we can see these dresses selling out very quickly!
Pippa Middleton
Love Pippa Middleton? Then you'll love this blog! We chronicle Pippa's style, look at her clothing and discuss her outfits. We hope you enjoy your visit today :-)
Image © FemGeek.co.uk
Browse the site:
Become a FAN on Facebook:
Stay up to date with all the latest posts by 'liking' this page on Facebook: